Quick! Without googling…what is Oscar holding in the golden Academy Award of Merit statuette, and what is he standing on? And, for extra points, can you name the Midwest city where Oscars are made? I'll look for your answers in the comments!
Since 1929, nearly 3,000 Oscars have been handed out, but precious few recipients have publicly acknowledged God for their achievement.
Slate.com has tallied to whom thanks has been given most often at the Oscars since 2002, and the AP has apparently tallied acceptance speeches for the past 30 years, and God still comes out next to last (14 mentions out of 270). Only  Abraham Lincoln, who was thanked by Daniel Day-Lewis last year, comes in lower on the list than God. This third study goes back 60 years and says God has only been thanked 11 times, so there's some discrepancy in the numbers, but the same outcome.
That's part of what makes the ceremony held a month ago today so special; a whopping 2 award winners thanked God!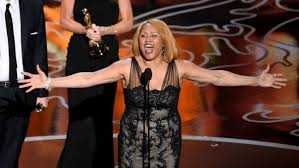 Darlene Love was bold and clear and musical with her God-honoring acceptance "Lord God I praise You, and I am so happy to be here representing the ladies of '20 Feet from Stardom', and I sing because I'm happy. Oh I sing because I'm free, cuz His eye is on the sparrow, and I know He watches me."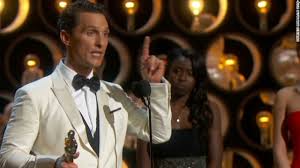 Matthew Mcconaghey (Best Actor) seemed to shock the audience who didn't know whether to clap or not when he said, "Now, first off, I wanna thank God, cuz that's who I look up to. He's graced my life with opportunities that I know are not of my hand or any other human hand. He has shown me that it's a scientific fact that gratitude reciprocates. In the words of the late Charlie Laughton, who said, 'when you got God, you got a a friend, and that friend is You!"
The Thinking Christian Woman knows that God is very keen on gratitude and acknowledgment.
God is worthy of our thanks (Psalm 106:1)
In

everything give thanks (1 Thessalonians 5:18)
Do

everything with thanks (Colossians 3:17)
God guides those who acknowledge Him (Proverbs 3:6)
Lack of gratitude toward God can lead to dire results (Romans 1:18-32) and can even be fatal (Acts 12:21-23)
And though we may never win an Oscar, we each have the sweet opportunity to encourage Jesus and His Father by remembering from Whom all blessings flow, as in the story of the 1 leper out of 10 who thanked Jesus for the healing (Luke 17:11-19).
At their best, Oscars can acknowledge achievement in a given field, but must not venerate the recipients. Everything we accomplish is a result of God giving us the breath of life (Acts 17:25), gifts, and opportunities to use those gifts (Deuteronomy 8:18).
Every desirable and beneficial gift comes from heaven. The gifts are like rivers of light flowing down from the Father of Light (James 1:17).
In the "light" of that truth, what can you thank God for right now? Each time we humbly thank Him, He shines on us, in us and through us to light the path of life before us. And the Oscar goes to…
© 2014 Melody K. Anderson
All Rights Reserved