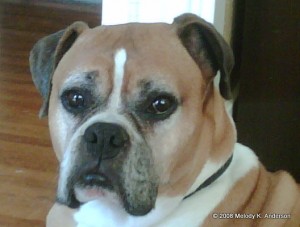 My dear old boxer friend Max died this afternoon. He lived a good long life and entered the big sleep gently and with dignity. Several weeks ago, a friend encouraged me to ponder the lessons God has been teaching through this great companion, which continues to be a God-glorifying exercise. Here now, for your consideration, is a sampling of:
Lessons Learned with Mr. Max
"Look to the animals, and they will teach you…" Job 12:7
Be willing to lay your life down for your friends
Communicate, even if it means tipping over your toy box
Know your job and do it. Stay focused
Choose friends wisely. Pour your life into a few select souls
Greet loved ones enthusiastically
Walk guests to the gate
Growl before you bark
Don't beg
Learn and honor others' boundaries
Open your heart to the love around you
If you have a choice between drinking from your bowl, or the pond, choose the pond
Some of the best communications have no words
Accept and embrace others with your eyes
Find out where the doggie door is and learn to use it
Home is where your loved one's are
Just when you think you've reached the end, there might be more.
Lose yourself for awhile in something wholesome you enjoy
Don't jump on people
Get out in the sun at least 10 minutes every day
Don't try to force others to do what you want, even if you can
Respect authority; rest in it.
Be ready to play at a moment's notice
Sit. Staaaayyyy. Love waits patiently
Take a nap when you need one
On a leash, you're free from the pressure of deciding where to go
Cats are more fun to chase than to catch
Ask for what you want, then be grateful for what you get
Be content to stay in your own yard
Never give up. Defy the odds
When you're happy, wag all over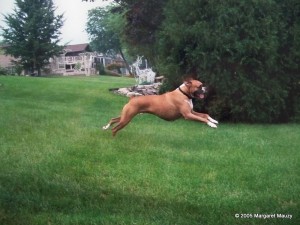 On this occasion, as possibly less of a thinking Christian woman, and more of a grieving Christian woman, I've taken the liberty of modifying a poem called The Last Battle, and am dedicating it to Mr. Max, in case it might help someone else with a terminally ill pet.
With Love and Thanks

If it should be that I grow weak, too tired to play, too pained to sleep, then you will do what must be done, I'm trusting you, you are the one.
You'll be sad I understand, but don't let grief restrain your hand, for on this day, more than the rest, I need your love to stand the test.
We've had so many happy years, I understand your aching tears, but don't ask me to suffer so, just please, do this and help me go.
Take me where my needs they'll tend, and stay with me until the end. Your scent, your sound, your eyes, your touch will comfort me so very much.
Please hold me firm and speak to me, until my eyes no longer see. I know in time that you'll agree, it's one more kindness that you've done for me.
Although my tail has waved its last, all pain and suffering now is past. Great Master, I pray her soul You'll lift – good life, good death such precious gifts.
Don't grieve too much it fell to you, this sad and painful thing to do; we've been so close these many years, my love and thanks flow with your tears.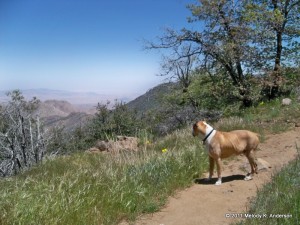 © 2012 Melody K. Anderson
All Rights Reserved