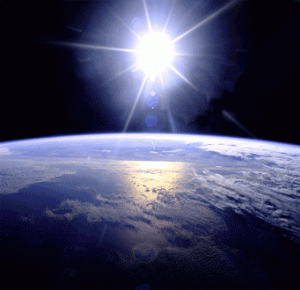 My parents had a vision and a passion for sharing the Good News about Jesus the Christ with the whole world. They started out wanting to be missionaries, and ended up equipping foreign and national missionaries on a far broader scope than ever could have been realized serving in one mission post.
My father traveled to over 120 countries (there are currently about 196 countries in the world) researching and filming evangelistic audio visuals for Ken Anderson Films and International Films. My mother and various siblings sometimes accompanied and assisted him.
I remember seeing my father lay his hands on a globe of the world and pray for everyone at one time, trusting that God knew individual needs. Visitors from around the world were frequent guests in our home. We were raised to be world Christians.
During college, rather than accept Walt Disney World's offer of a dream summer job, I toured Mexico, Central and South America with Sports Evangelism's women's basketball team. While our opponents rested during half-time, we presented God's love through music, talent and testimonies.
My family's vision continues today in the form of InterComm, a non-profit ministry that works with national Christians around the world to translate existing Ken Anderson Films audio-visuals into their heart language.
I have traveled to 17 countries and seen first-hand some of the ways God's Spirit is fulfilling a worldwide mandate. This website is one expression of my desire for people around the world to experience, and share about, God's love.
So far, the Thinking Christian Woman has received visitors from Australia, Brazil, Canada, Finland, France, Germany, India, Jamaica, Latvia, Malaysia, Mexico, New Zealand, Pakistan, Philippines, Romania, Saudi Arabia, Scotland, Serbia, Slovakia, Sweden, Switzerland, United Kingdom, and the United States.
If your country isn't listed, please leave a comment and let us know where you're visiting from.
And if English is not your heart language, you might enjoy checking out the newly-added "Translate this Page" feature in the right column of the blog.
Thank you for visiting. God bless you! If you enjoy what is offered here, please tell your friends about the Thinking Christian Woman. Thank you!
© 2011 Melody K. Anderson
All Rights Reserved