By guest blogger Élise Finney
My only daughter married last month, and moved into the house across the street (which is good, but a whole 'nother story of its own).
She and her husband just graduated from college and have been job-hunting. We were praying that her husband would land a job at a nearby big box retail store.
Shortly after his interview, she texted the good news, "He got the job!" I happily replied by typing "Woohoo!" but, before I could send, my smartphone auto-corrected "Woohoo!" to "Elohim!"
Elohim – the Hebrew word for God!
God reminded me that we had been praying to Him, asking Him for favor, and He had answered. It was a sweet visitation and a gentle transformation of my enthusiastic "Woohoo" into direct praise for the "One Who" was responsible.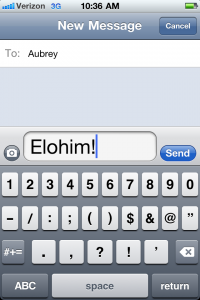 © 2011 Melody K. Anderson
All Rights Reserved