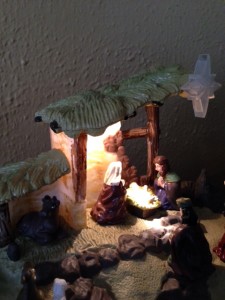 What if Jesus was being born in 2014?
How might the news media cover events surrounding His unusual birth?
San Diego's news radio team (KOGO, AM 600) gave its answer on Christmas Eve in a radio drama (remember Orson Welles' "War of the Worlds"?) called "The Bethlehem Report."
With breaking news about a bright light in the Middle-East (even Late Night's Art Bell weighs in), litigious scandal about a pregnant woman in labor turned away from a local inn, and possible police action in case of an insurrection over an alleged newborn king, The Bethlehem Report renders a well-known tale of antiquity as contemporary as today's news.
When Christmas quiets down for you, why not find a comfy spot and click on the link to hear an archived copy of the 53-minute broadcast. I was blown away that such a godly program would be produced by the news radio station of America's 8th largest city. Please leave a comment with your thoughts.
Merry Christmas!
© 2014 Melody K. Anderson
All Rights Reserved