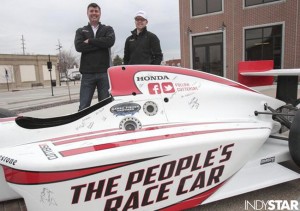 You've heard of "March Madness"? Well, today begins what is known simply as, "The Month of May" at the Indianapolis Motor Speedway, initiating the arduous process of preparing 33 contenders for "The Greatest Spectacle in Racing" on Sunday, May 25. This year, after decades of domination by corporate sponsors, the 98th running of the Indy 500 might include a largely fan-funded entry, #67, driven by Josef Newgarden, owned by CuttersRT (named after the bike team in "Breaking Away" – an homage to Indiana limestone cutters), and teaming with Sarah Fisher Hartman Racing.
Newgarden, an Indy resident, is an up and coming young driver with great potential. While he is working hard to be ready, here's also his lighthearted look at "The Life of a Race Car Driver".
If #67 qualifies, it will be the first ever crowd-funded (crowd-sourced) Indy 500 entry. For as little as $100, sponsors, like me, can have their names written right on the car.
(btw – "racecar" is a palindrome – same forward and backward)
The last time I joined 300,000+ fellow race fans at the 500 was the first time Honorary Hoosier Jim Nabors sang "Back Home Again" at Indy. Nabors announced that this year, (42 years later), will be his last Indy 500 performance. I plan to be there singing along with him, from my seat on the front straight-away.
It's so exciting to anticipate watching #67 fly by and knowing that The Anderson Family is written somewhere on it:  The People's Race Car.
Even better, the Thinking Christian Woman knows that God has engraved His people on the palms of His hands! (Isaiah 49:16). Jesus the Christ bears huge iron spike scars on His palms today, because of my sin. By His love, I'm engraved on His glorified body. He is:
The People's Savior!
 © 2014 Melody K. Anderson
All Rights Reserved