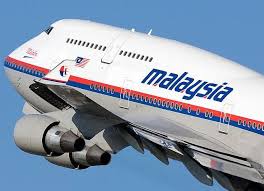 "All right, good night" – the last verbal communication from the flight deck of a Malaysia Airliner on a red-eye from Kuala Lumpur to Beijing. Missing for over a week now, MH370 is one of the most mysterious and compelling aviation disappearances since Amelia Earhart's 1937 attempt  to circumnavigate the globe, in a Purdue University-funded Lockheed Model 10 Electra, ended somewhere over the central Pacific Ocean near Howland Island.
Most air disaster investigations narrow over time, but the search for Flight 370 has expanded, due, in part it seems, to mistrust, misinformation, and lack of cooperation among neighboring nations in a highly sensitive region of the world. With twists and turns too numerous to mention here, coverage of events and speculations surrounding the missing aircraft, and the 239 souls on board, read like a nail biter screenplay.
Recent revelations include facts indicating the Boeing 777, one of the safest commercial crafts in the air, seems to have flown over multiple countries on its diversion path to oblivion (being forgotten or unknown). Oblivion, that is, only if it is found. The very real possibility exists that MH370 might never be found, which is possibly the only way it will maintain its mystique.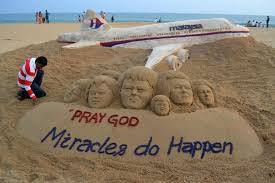 As Patrick Smith observes in his Ask the Pilot blog, "It's the very missing-ness of the plane that the public finds so captivating. If and when the wreckage is discovered, I have to wonder if suddenly people will stop paying such rapt attention."
My fantasy is that MH370 landed somewhere and released some of its passengers and crew, who are temporarily being held against their will for some reason. I have prayed for them and their families, and for God to be magnified through all this.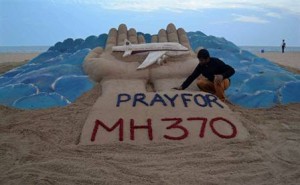 But regardless of whether we humans, with our many fears and frailties, ever solve this mystery, one thing is certain:
God is aware of every intimate detail involving Flight 370. He knows what happened, moment-by-moment. He knows the thoughts, feelings and intents of the crew and passengers each mile of the way, and He sees where the plane came to rest.  There is no hiding information from Him. The deep mystery of Flight  370 holds no surprises for Him.
I find comfort in this as I face the unanswered questions in my own life. Proverb 15:3 assures that, "The eyes of the Lord are in every place, keeping watch on the evil and the good," and Proverb 15:11 affirms that, "Hell and destruction are before the Lord; so how much more the hearts of the sons of men."
The question of why things like this happen, why there is suffering in the world, is worthy of consideration beyond the scope of this blog post.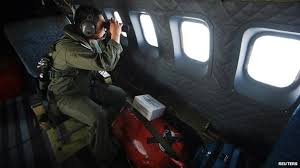 But for now, even as hundreds of searchers, from 14 countries, in 43 ships and 58 aircraft at last count, scour both land and sea looking for any scrap of evidence, God's word promises, "…you will seek the Lord your God, and you will find Him if you seek Him with all your heart and with all your soul," (Deuteronomy 4:29) and, "…you will seek Me and find Me, when you search for Me with all your heart." (Jeremiah 29:13)
As much as I want searchers to find Malaysia Airlines Flight 370, I want every spiritual seeker to find the one true God immeasurably more. Journeying into the unknown with God is the only way for anything to be "all right," and for anyone to have a "good night."
© 2014 Melody K. Anderson
All Rights Reserved