"Then God said, 'Let Us make man in Our image, according to Our likeness; let them have dominion over the fish of the sea, over the birds of the air, and over the cattle, over all the earth and over every creeping thing that creeps on the earth.'"
Genesis 1:26-27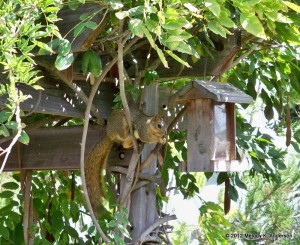 We have beautiful comical reddish/brown squirrels in my neighborhood. They travel the overhead lines like little acrobats, frequently breakfasting at my bird feeder.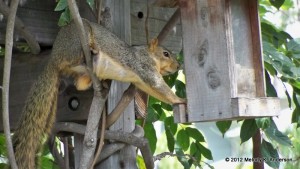 Earlier this week, a friend called to report an injured squirrel in her yard.
When I was a little girl, Dad taught me that helping suffering/dying creatures is part of exercising our dominion over creation. I remember once we were walking the dirt lane by the little dam on Center Lake, and came across a painted turtle that had been partially crushed by a car. Gently, and with the utmost respect and solemnity, he explained that the turtle was suffering and could not survive with such damage. He told me that creatures depend on us sometimes to end their suffering. Once he was sure I understood through my tears, he swiftly fulfilled the duty of dispatch dominion.
That was on my mind as I drove the half mile to my friend's, with ax and gloves in the trunk.
We stood a good long time evaluating the critter's condition. There was no blood or visible damage, but he was breathing very fast and shallow, moving only infrequently and without proper coordination, and he had been crying.
Then something happened that I've never seen before.
Two other squirrels, one small and young like this one, and a larger older female, took turns visiting the injured fellow, then slowly approaching us, coming within a foot or less, sometimes standing on back legs, looking intently at us, then running back to him. At first I backed away, fearing maybe they were guarding the injured one.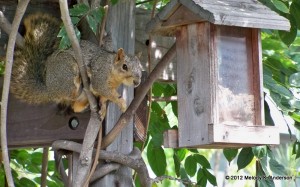 This happened several times, until eventually I realized they might actually be pleading with us to take action.
With that possibility in mind, and having satisfied ourselves of his desperate condition, we stepped up to our responsibility.
"You have made him (man) to have dominion over the works of Your hands; you have put all things under his feet, all sheep and oxen – even the beasts of the field, the birds of the air, and the fish of the sea that pass through the paths of the seas."
Psalm 8:6-7
As similar, and sometimes apparently merciful, as it might seem, I do not support euthanizing humans or aborting less-than-perfect fetuses. Scripture is clear that dispatch dominion ends at the bright border of humanity, except for the limited sphere of government-controlled capital punishment. We are created in God's image and our times are in His hands. He gives the breath of life, and it is solely His prerogative to take it back again.
Oh how I cried after burying that furry little fellow. Death hurts the dying and the living. But I took consolation in having fulfilled my calling as a thinking Christian woman by helping my fellow creature in his hour of need and exercising one important aspect of creation dominion.
© 2012 Melody K. Anderson
All Rights Reserved