Taking Disney Captive to Christ – No. 4
A famous Walt Disney quote is, "I only hope that we don't lose sight of one thing – that it was all started by a mouse." After visiting Walt's birthplace yesterday, I'm contemplating a new twist on that, reaching back even further – it all started with a house.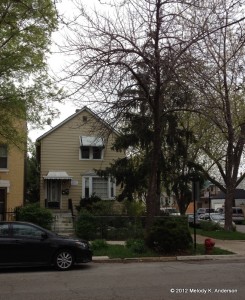 It is commonly thought that Walt Disney's ancestors were French peasants from the cheese-making town of Isigny (ee-zee-nee).  In French, "from" is designated as "d", thus the family was known as d'Isigny (dee-zee-nee). Later family members anglicized the name to Disney. Some of the family emigrated to around Lake Huron in Canada, where Walt's father, Elias Disney, was born. Elias later moved to Kansas, where he became an American citizen.
In 1889, Elias moved his wife Flora and son Herbert to Chicago, where Elias enrolled in night school carpentry and discovered he had a knack for making furniture.
Elias soon earned enough making furniture to buy a 25 x 125′ plot on Tripp Avenue, in the Northwest suburb known as Hermosa. Flora drew the plans and Elias built the house. He did it so well, that he bought land next door and built and sold two more houses for a nice profit. Son Ray was born in 1890, and Roy in 1893 – the year of the Chicago World's Fair (see previous post about the introduction of the Ferris Wheel at that fair). Elias made quite a bit of money through fair-related jobs.
The family became regular worshipers at St. Paul's Congregational Church, and friends with the pastor, Reverend Walter Parr. Elias helped build a new church for the congregation, which was finished in 1900. Both Mrs. Disney and Mrs. Parr were with child in the spring of 1901. It has been said that there was such closeness and respect between the two families, that when Mrs. Disney's boy was born on December 5, they named him Walter Elias (when Mrs. Parr's boy was born, they also named him Walter Elias).
Walt Disney was born in the upstairs bedroom with the two windows.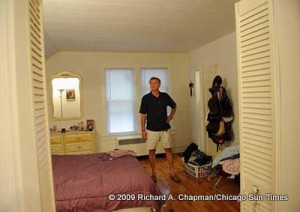 Just before Christmas, Reverend Parr christened both boys, saying of Walt, "I baptize this child Walter Elias Disney in the name of the Lord God Almighty."
Ruth Disney was born in 1903. As the Disney family grew, so did Chicago. The population boom brought saloons and increasing crime to Hermosa, so in 1906, when two local boys killed a policeman in a robbery, concerned father Elias sold the house and moved his young family to a farm in wholesome, rural Marceline, Missouri, where Walt spent the remainder of his childhood.
For even more information and pictures, check out Werner Weise's Yesterland article entitled "Walt Disney In Chicago."
Since you never know what great things God might want to start in your house, no matter how humble it may appear, the thinking Christian woman can resolve daily – "As for me and my house, we will serve the Lord." (Joshua 24:15)
© 2012 Melody K. Anderson
All Rights Reserved