There's a pet store in my neighborhood whose proprietors appear to have chosen a lifestyle I don't agree with. I never felt comfortable there, so for many years did business elsewhere.
After my dog was attacked (see Bitten by the postal carrier's dog) and refused food (and therefore heart meds), I found myself stopping in for something to spark his interest.
One clerk in particular went out of his way to suggest treats and food like canned turkey and canned pumpkin, opening packages and giving me free samples of dehydrated food and tasty bits to offer. As a direct result of this extravagant kindness, my dog started eating.
In recognition of such exemplary service, I dropped off a coffee house gift card with a note:
Dear Ray,
Thanks so much for your kind compassion when I came in looking for things that my sick old dog Max (who, on top of everything, had been bitten by a loose dog) would eat.
He's doing much better now, by the way.
It's so rare to find merchants who are so genuinely concerned and motivated to help.
The Good Book says, "A righteous man regards the life of his animal…" (Proverb 12:10) thanks for helping me do that for Max!
God bless!
I wasn't sure about including scripture, not wanting to offend, but in the end felt led to do it. Imagine my surprise returning to the store a week or so later, and seeing the note displayed on a pillar right by the register for all to see!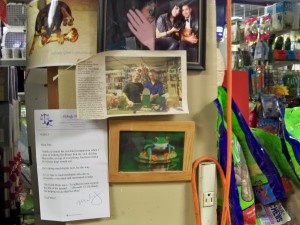 In that moment, as a thinking Christian woman, I realized I had vastly underestimated the spiritual sensibilities of these shopkeepers. They had embodied the spirit of Proverb 12:10 so much that they were willing to display it in their store! What a treat to be surprised by such a display of righteousness. Glory to God!
© 2012 Melody K. Anderson
All Rights Reserved