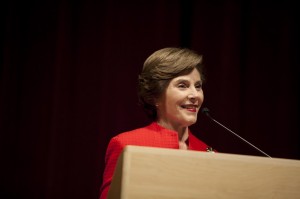 Former First Lady Laura Bush addressed a full house of 2,600 at the Grace College Orthopedic Capital Center in Winona Lake Indiana earlier this month. I was excited to be in the audience.
I was impressed by the causes, such as literacy for all the world's children, and freedom and education for oppressed woman everywhere, in which Mrs. Bush invests her life. She has a unique position of influence, largely because, as she puts it, "I wanted to marry someone who could make me laugh."
Mrs. Bush talked humorously about, what she calls, "the afterlife," in what her husband calls, "the Promised Land."  Her quips about the Bush family were delightful, such as "when you're married to the President of the United States, you don't worry about him leaving wet towels on the floor, but now that we're back in Texas, it's a different matter!"
I was moved and inspired by her account of President Bush throwing out the ceremonial first pitch of World Series game 3 in Yankee Stadium on October 30, 2001, just a little over a month after 9-11. Knowing danger could come from any direction at any time, she was a worried wife, but so proud of her husband for standing alone and standing strong. At that moment, she realized, "this is not just the job of the president, it is the job of every American who has the urge to take a stand, and to face failure, humiliation, or any mortal danger."
President and Mrs. Bush visited war wounded in San Diego back in 2005. I waived my support as they left Navy Hospital, then called a local radio station to laud the quality of her character. I wrote her a letter, and received a gracious reply.
Mrs. Bush has proven herself to be strongly moral in many ways, and very likely has a relationship with God through Jesus Christ, but, unlike her husband, seems reticent to speak much of her spiritual life.
This could be traced to the time with she, as a teenage driver, ran a stop sign and collided with a popular fellow student. In her book, Spoken From the Heart, she remembers: "The whole time, I was praying that the person in the other car was alive. In my mind, I was calling 'Please, God. Please, God. Please, God,' over and over and over again."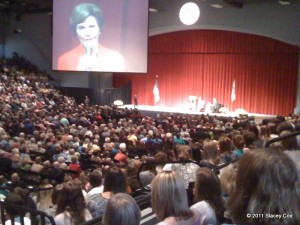 The other driver died, and she shares candidly in her memoirs about how that affected her.
"I lost my faith that November, lost it for many, many years," she says. "It was the first time that I had prayed to God for something, begged him for something, not the simple childhood wishing on a star but humbly begging for another human life. And it was as if no one heard."
It is the sign of an honest seeking heart to acknowledge the times when our mysterious God seems out of reach. Of course, genuine faith is not affected by what we can see, or by what happens to us.
We walk by faith, not by sight
(2 Corinthians 5:7)
I can't imagine what that must have been like for her, nor my response had I been in her position, but I'm sad that the enemy of our souls used those tragic circumstances to deceive her into hardening her heart and walking away from faith for many years.
Perhaps that is part of the reason why the former first lady continues to holds her own opinion, contrary to God's word, about such things as abortion and homosexual marriage.
Even so, I have found Laura Bush to exemplify several attributes commendable for every Thinking Christian Woman – humility, grace, poise, humor, intelligence and compassion. I pray that God will continue to bless her and woo her, and each of us, into a more and more deeply satisfying relationship with His heart that has only perfect love for us all!
© 2011 Melody K. Anderson
All Rights Reserved