Taking Disney Captive to Christ – No. 1
Note: We introduced the Taking Disney Captive to Christ series back in June to help transform and elevate Disney "magic" through the higher thoughts and values of God's wisdom.
According to the official website, "Main Street, U.S.A. is the gateway to Disneyland Park. Stroll down the street where turn-of-the-century architecture and transportation recreate the quintessential small town of Middle America in the early 1900's. Welcome to Main Street, U.S.A. – home, sweet home in the park!"
If quintessential means "representing the most perfect or typical example of a quality or class" (Merriam-Webster), and if the average Midwestern downtown has at least one church, and if Main Street, U.S.A. was inspired by Walt's hometown of Marceline, Missouri where there were two churches on Main Street when Walt lived there, then the Thinking Christian Woman just has to ask,
"Where's the church on Main Street, U.S.A.?"
Walt Disney grew up in church. His father, Elias Disney – a deacon in the St. Paul Congregational Church in Chicago – named his fourth, and youngest, son after the family minister, Walter Parr. 
There is evidence to conclude that Walt never intended to exclude God from Disneyland. In a live broadcast seen around the world on opening day in 1955, Walt asked his nephew, Reverend Glenn D. Puder, to lead in a prayer of dedication.
"I have known Walt Disney for many years, and have long been aware of the spiritual motivation in the heart of this man who has dreamed Disneyland into being….beyond the creeds that would divide us, let us unite in a silent prayer, that this, and every worthy endeavor, may prosper at God's hand. Let us bow in prayer."
Then-governor of California, Goodwin J. Knight, followed and said, in part, "Mr. and Mrs. Disney, reverend clergy, and my fellow Americans. Today is a wonderful day and all America is proud as we open Disneyland….all built by American labor and American capital under the belief that this is a God-fearing and a God-loving country."
It is possible that Walt wanted to be as inclusive as possible by generally avoiding the emblems and trappings of organized religion in the park. And, to be fair, there's no school, library or post office on Main Street U.S.A. either, but that doesn't mean Walt was against learning, reading and letter writing!
Walt's daughter, Sharon Disney Lund, once said, "He was a very religious man, but he didn't believe you had to go to church to be religious….He respected every religion." Diane Disney Miller added, "He definitely believed in God – very definitely. But I think he'd had it [with organized religion] as a child. He never went to church."
For such a fertile creative spirit as Disney, the formal structure of church around the turn of the century may have seemed stifling. The Thinking Christian Woman will look more in depth at the faith of Walt Disney in a future

post. For more insights into why some believers have difficulty with organized religion, read
Why Men Hate Going to Church

by David Murrow.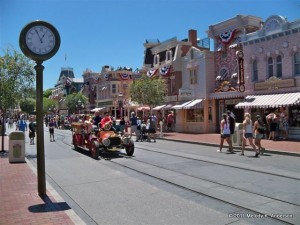 There may be no church building on Disney's Main Street, U.S.A., but the Thinking Christian Woman knows that the church of the living God is

not

a building made with human hands – WE are His church. Every time a believer walks down Main Street, U.S.A., or anywhere else, God's church is present there!
And even though there is no church building on Main Street U.S.A, there IS an actual church in Disneyland, and we will show you where! Stay tuned to The Thinking Christian Woman for a future installment of Taking Disney Captive to Christ!
© 2011 Melody K. Anderson
All Rights Reserved