I did something the other day I'm not proud of – the night before trash day, I left a big item in my alley that had some value, but was no longer wanted. This is common practice (people regularly cruise the alleys looking for things – it's like an anonymous flea market/swap meet), so that was fine, but the bad part was that I left it by a neighbor's fence rather than my own.
That property is a rental, and the alley there is almost always trashy with loose dead weeds, water bottle caps, cigarette butts, cardboard, etc. Last year I took a "before" picture, cleaned it up, took an "after" picture, looked up the owner's name/address, and sent a nice (at least I thought it was nice) letter. Nothing changed.
As a Thinking Christian Woman, I knew that purposeful littering was an offense against my neighbor, who, according to Proverb 3:29, lives trustfully near me, but I excused my actions because I'm so tired of seeing the mess and thought it might spur them to clean up (thinking they might notice something as big as two plastic dog kennels!)
I was uneasy – hoping someone would want the kennels, or trash collection would take them, or the neighbors would get the point (perhaps give them to their neighbor who works with animal rescue) – anything to absolve my "crime."
I didn't deserve God's blessing – we never do – and I had misused the trusting nature of alley culture.
What happened next struck me as a rebuke of life (Proverb 15:31). In "The Rebukes of Life: God's Safety Net," Rodger Williams observes, "Instruction prepares us to act with discernment and is the least painful way to learn how to act wisely. In cases where we have missed instruction, God graciously supplies the safety net of rebuke, lest we fall through to the most painful way of learning our lesson."
After some errands on trash day morning, I drove down the alley to see if the kennels were still there. Not only were they gone, but another nearby neighbor had set out something I have long wanted but never prioritized to invest in – a slatted wood gardening table!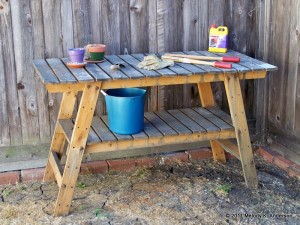 God had somehow arranged not only to remove the evidence of my trespass, but also to provide an unexpected object of my heart's desire, all in the same fine morning. I was immediately convicted.
Conviction is the voice of God saying something in my heart like, "I am showing you a better way because I love you so much, turn and walk in it." Guilt, from what people have told me, sounds more like, "What's the matter with you?! You should have done (or not done) this or that! You're a bad person!" My sister Naoma explains that conviction from our heavenly Father can stop us in our tracks and point us in a better direction, while guilt (condemnation) from the Enemy discourages us, makes us feel unworthy, gnaws away at us and can ruin our happiness and peace.
There is therefore now no condemnation
to those who are in Christ Jesus…
(Romans 8:1)
I certainly don't expect God to always protect me from the consequences of my foolish actions and give me a gift, but every time I use that lovely gardening table, I will have a present reminder of God's forgiveness, cleansing absolution, and convicting blessings. And maybe one way I can say thank You is to make that untidy stretch of alley my love project and keep it looking nice!
© 2011 Melody K. Anderson
All Rights Reserved