Here's a blast from the past:

What color was the Lone Ranger's mask?
Think you know? Read on for the answer. You might be surprised – I was!
The Lone Ranger began on radio in 1933, then aired on tv from 1949 to 1957, spawning several icons of Americana like silver bullets, "Hi-yo Silver! Away!" and the phrase of admiration and wonder, "Who was that masked man anyway?"
As the story goes, six Texas Rangers were ambushed. All died but one, who made a black mask from the vest of his slain brother, and became – the Lone Ranger. From then on he used only bullets made of silver to remind himself that life, like silver, is precious, not to be wasted or thrown away. But was his mask really black?
During a stay at the storied Beverly Hilton this past weekend, I discovered a Hollywood memorabilia display with cavalry uniforms from "How the West was Won," a camel sculpture owned by Judy Garland from "A Star is Born," and a mask worn by John Hart when he briefly replaced Clayton Moore for the Lone Ranger's third season.
My jaw dropped when I saw that the Lone Ranger's mask was purple! It only looked black because seasons 1-4 were filmed in black and white. In the final season, filmed in color, the mysterious lawman wore an actual black mask.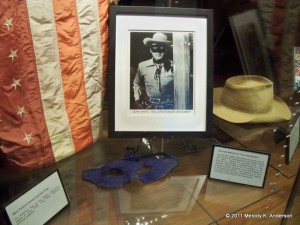 Of course, the real color of the Lone Ranger's mask doesn't matter, except as vintage tv trivia. The story told us it was black, it looked black, and therefore, it was black!
On reflection though, as a Thinking Christian Woman, I praise God that we are not limited by what we are told or can perceive with our senses.
We are not held hostage by the limited perspective of our own understanding (Proverb 3:5-6).
Because of our relationship with God through His Son Jesus, we can know the truth and the truth sets us free (John 8:32)!
And if God's Son has set us free, we are free indeed (John 8:36)!
We are seated with Christ in the heavenly realms (hey, I can see my house from here!) (Ephesians 2:16) and have access to a perspective that is as high above our human perspective as the heavens are higher than the earth (Isaiah 55:9).
In your life today, something may look one way, because of limited human perspective, but in reality, it might be totally different!  When it comes to knowing the truth about life, none of us has to be a lone ranger – Hallelujah! For the Thinking Christian Woman, the fun is in staying open to God's sometimes surprising perspective on things we may think we know for sure.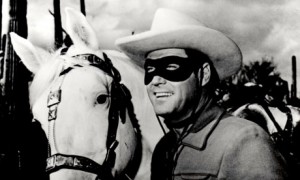 btw – For those of you who are really into the Lone Ranger, here's the creed he and Tonto aspired to live by:
I believe…

that to have a friend, a man must be one.

that all men are created equal and that everyone has within himself the power to make this a better world.

that God put the firewood there, but that every man must gather and light it himself.

in being prepared physically, mentally, and morally to fight when necessary for that which is right.

that a man should make the most of what equipment he has.

that 'this government of the people, by the people, and for the people' shall live always.

that men should live by the rule of what is best for the greatest number.

that sooner or later…somewhere…somehow…we must settle with the world and make payment for what we have taken.

that all things change but truth, and that truth alone, lives on forever.

in my Creator, my country, my fellow man.
© 2011 Melody K. Anderson
All Rights Reserved